17. Aug. 2023
Dynamic smart tool tracking - check manual work digitally and seamlessly
Tool tracking enables bridging between manufacturing and digital twin
AR technology is used to transfer digital content with a spatial reference into the analog world. This has many advantages for companies: Manual work can be checked directly for 100 percent completeness and correctness. In addition, tool tracking allows data from the analog world to flow back into the digital model as part of the assembly process, thus seamlessly documenting the entire process chain. Companies can seamlessly trace individual work steps, which facilitates quality assurance, for example, or enables efficient processing of customer complaints. In addition, it can be determined whether the correct sequence was followed in the work steps. The future of manufacturing thus clearly lies in the digitized, data-driven smart factory.
Tool tracking complements the capabilities of dynamic laser and video projection
In many companies, dynamic laser and video projection already supports workers in their work by projecting data dynamically onto the part or assembly and always making it clear what needs to be done next – even with many variants. But automating manual tasks, checking them digitally, and documenting them has still presented companies with difficulties. Dynamic tool tracking offers one way to overcome these hurdles. Through this modern technology, a company can precisely verify that a job was performed with the right tool at the correct location. It is also possible to link specific process parameters to a particular feature of a part in the digital model. For example, it can be determined whether the tool remained in a position for the specified time and whether the employee applied the correct torque. This seamless documentation and bidirectional data exchange guarantees 100 percent workflow awareness.
Tool tracking complements the dynamic laser and video projection: While the projection shows exactly where the worker has to put his hand, tool tracking ensures complete and correct machining. It also helps to save valuable process data for later analysis. For example, if complaints come in, the fully documented machining steps can be analyzed for troubleshooting. This data is also available for AI-based pattern recognition and process optimization derived from it. Thanks to smart tool tracking, the manufacturer can identify and exclude sources of error.
Depending on the application, it can also make sense to track the attachments instead of the tools. This is referred to as smart part or assembly tracking. This is suitable, for example, if add-on parts have to be precisely positioned manually on a base body. EXTEND3D demonstrated how both work in concrete terms with its WERKLICHT technology at automatica 2023.
Demo: Tool tracking on a battery cell
The first demo combined the WERKLICHT Pro S system with the tool tracking of the company Advanced Realtime Tooltracking GmbH in order to assist with screw connections on a battery cell. In the process, the torque wrench is continuously tracked and localized. In this way, it can be ensured that all manual processing steps have also been carried out 100 percent. The worker sees the projected positions for the screw connections directly on the battery cell and thus adheres to the correct sequence of work steps, which is extremely important when building a battery cell. Once the indicated location has been successfully machined, the projection disappears or changes to show the next process step. During processing, data flows in both directions: from the production system to the worker and back again from the manual processing step to the digital model. This is also referred to as workflow awareness, for 100 percent completeness and correctness. Finally, the digital twin also contains all other data recorded by the smart tool, such as machining time, contact pressure, etc..
I would like to activate YouTube content and agree to data being loaded by Google (see
Privacy Policy
).
Dynamic laser projection with integrated tool tracking - For a 100% digitized process chain (English version will follow shortly)
Demo part tracking: positioning of attachments on a welded assembly with video projection
In the course of the second demo, the AR technology WERKLICHT projects video dynamically onto a sheet metal on a welding table and tracks the attachment parts in the form of C-profiles instead of a tool. These have to be correctly positioned and tacked as part of a pre-assembly process. For this purpose, the video projection colors the areas to be machined blue. After the worker has placed the C-profiles in the correct positions, the video projector dynamically marks the positions in green. If the worker places parts incorrectly, the location is colored red. The color codes can be defined individually in advance. The solution enables workers to handle the highest number of variants with ease. The intuitive instructions directly on the part also provide automatic recognition and documentation of correctness and completeness. To perfect this system, EXTEND3D continues to work on improving the digitized data chain between workpiece, tool and worker in order to digitally document production steps without gaps.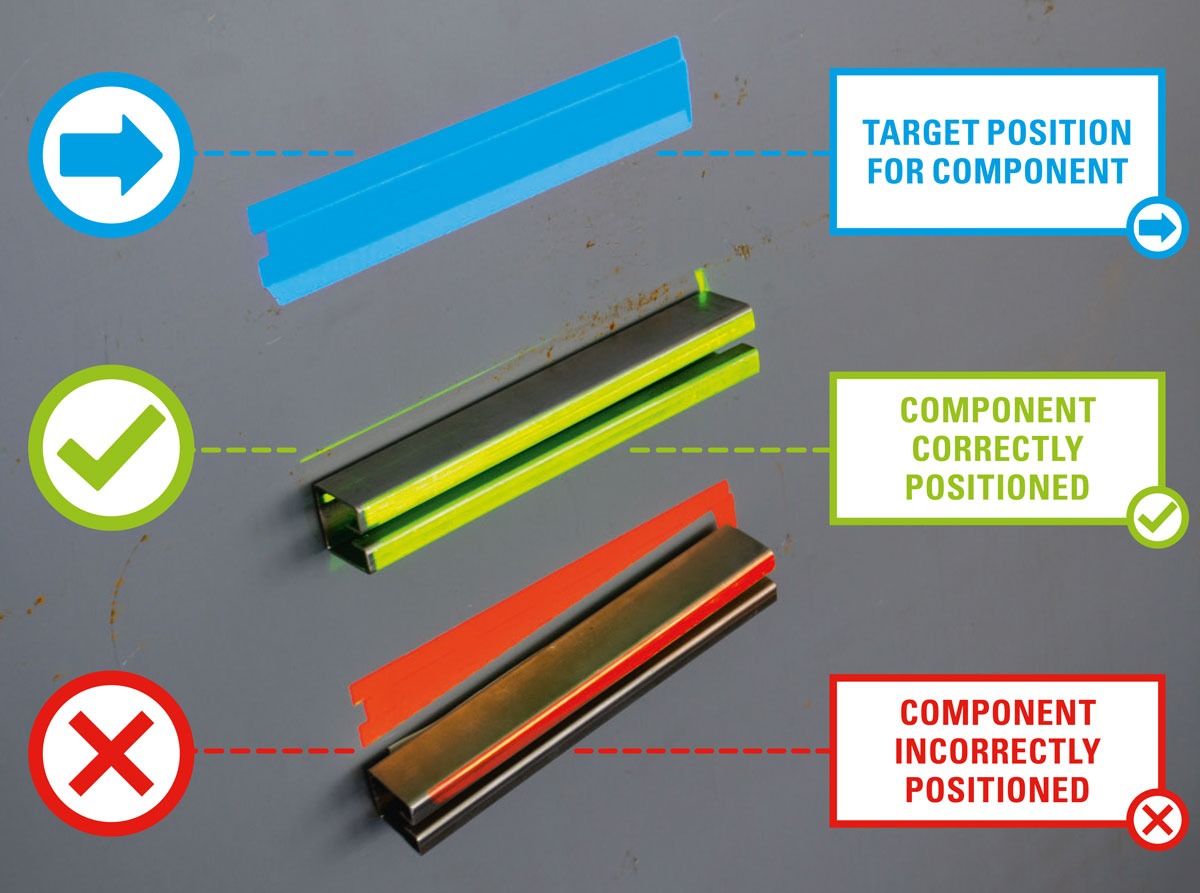 I would like to activate YouTube content and agree to data being loaded by Google (see
Privacy Policy
).
Dynamic video projection with integrated part or assembly testing (English version will follow shortly)
Further optimize processes with digital twin technology and big data analytics
Tool tracking collects an enormous amount of data from manual machining. This in turn opens up numerous possibilities for producers: Digital twins can be generated, for example. This is a precise virtual model of a real part or assembly. Without having to initiate complex and expensive test productions, this digital process copy can be used to carry out precise simulations and optimize processes even further.
In addition, it would be conceivable to use the mold tracking data set for the purpose of Big Data analyses – for example, to effectively match the collected quality information with other production and environmental data. It can also identify defect patterns that previously went undetected. Temporal and conditional error patterns can be identified and their causes eliminated. Therefore, Big Data analyses are very useful to reduce error sources and improve production quality.
The future of manufacturing lies in tool and part or assembly tracking
Dynamic laser and video projection offers the first approach to even more efficient processes: It makes digital information visible in the analog world. The second step is to ensure that all manual work has also been carried out completely correctly. Smart tool tracking enables precise documentation and feeds spatial data from the analog world back into the digital model. After all, the potential of the technology is far from exhausted. In the future, for example, Big Data analyses can be used to facilitate error management and optimize processes.