WERKLICHT VIDEO
Scalable dynamic 3D video projection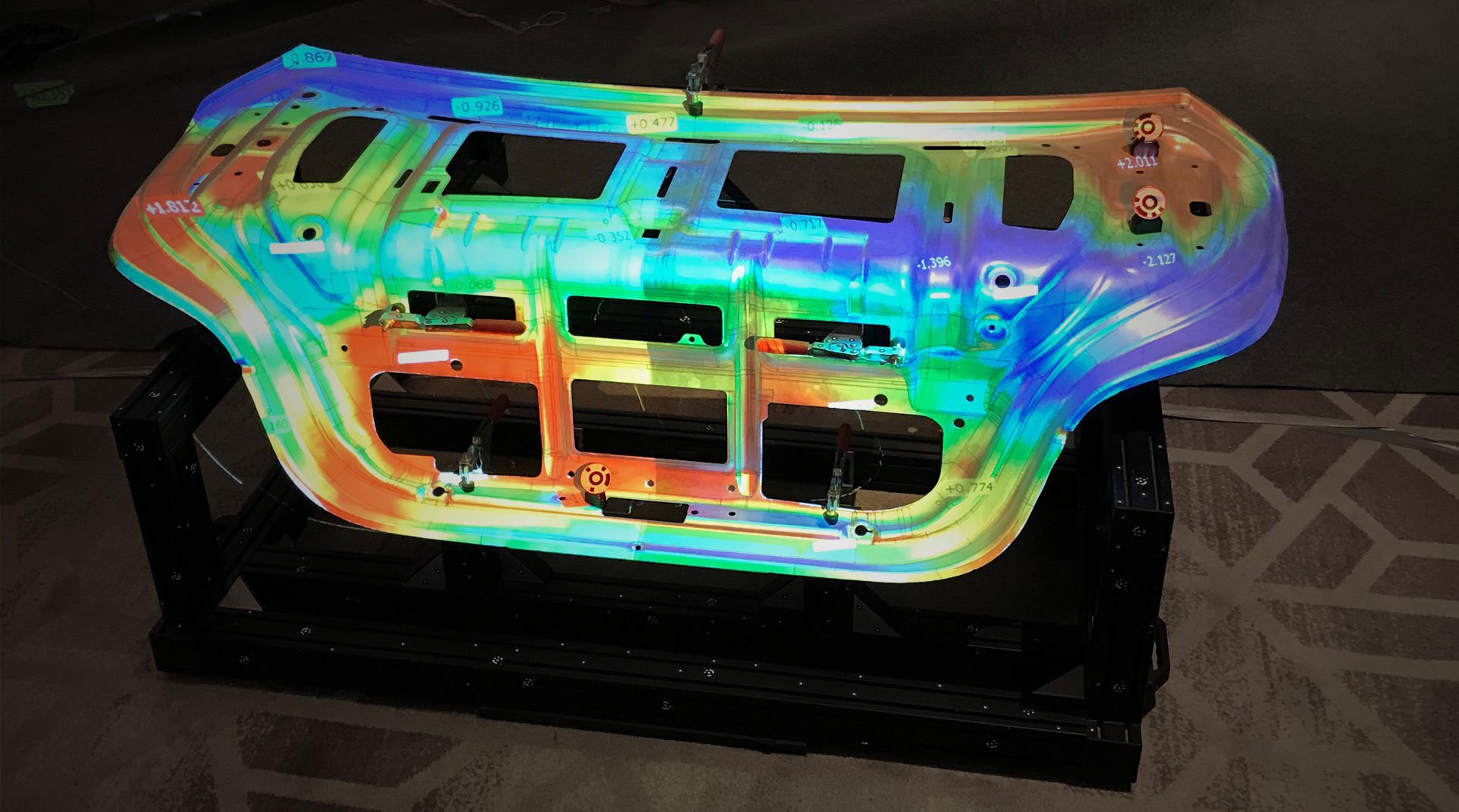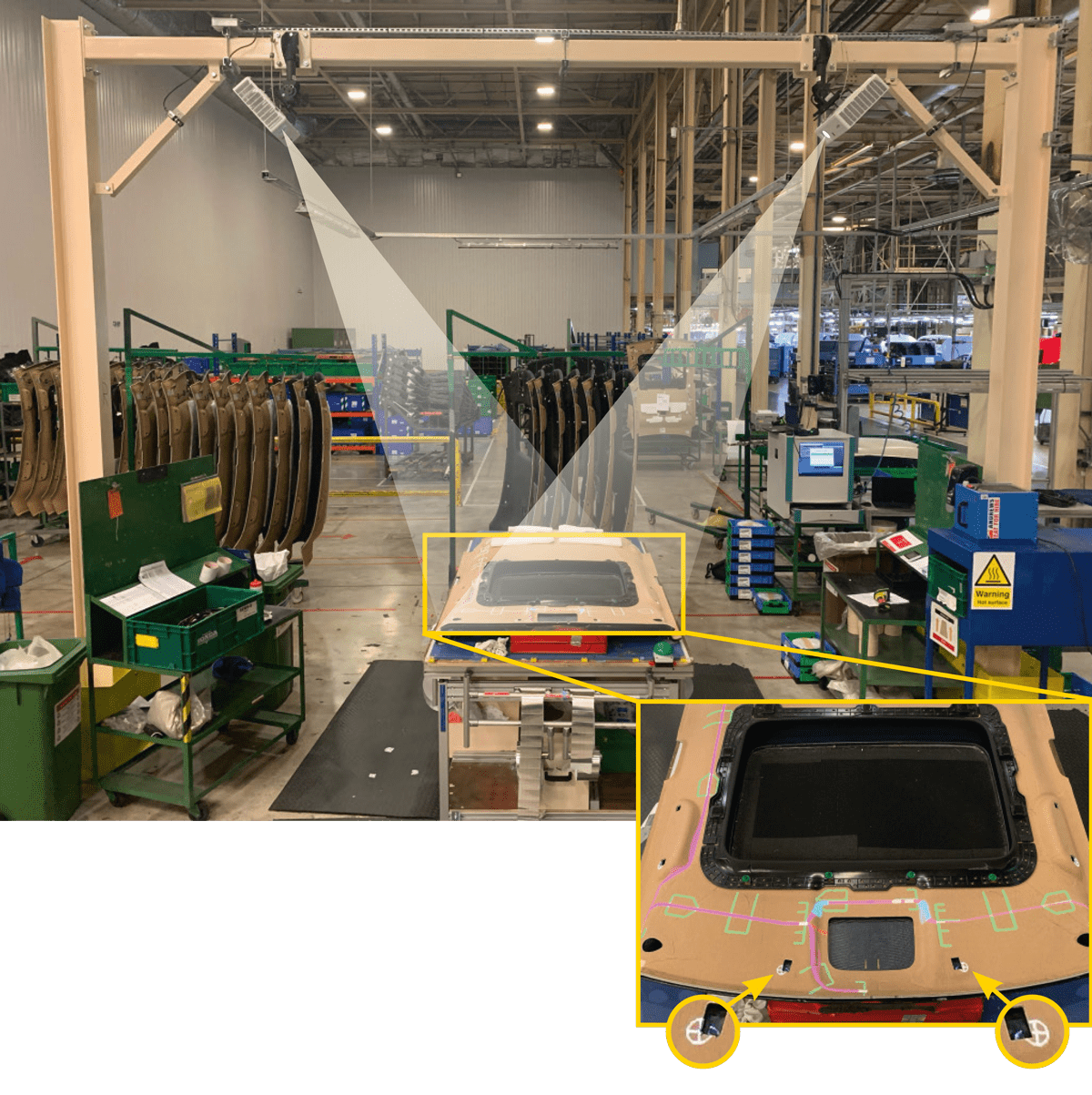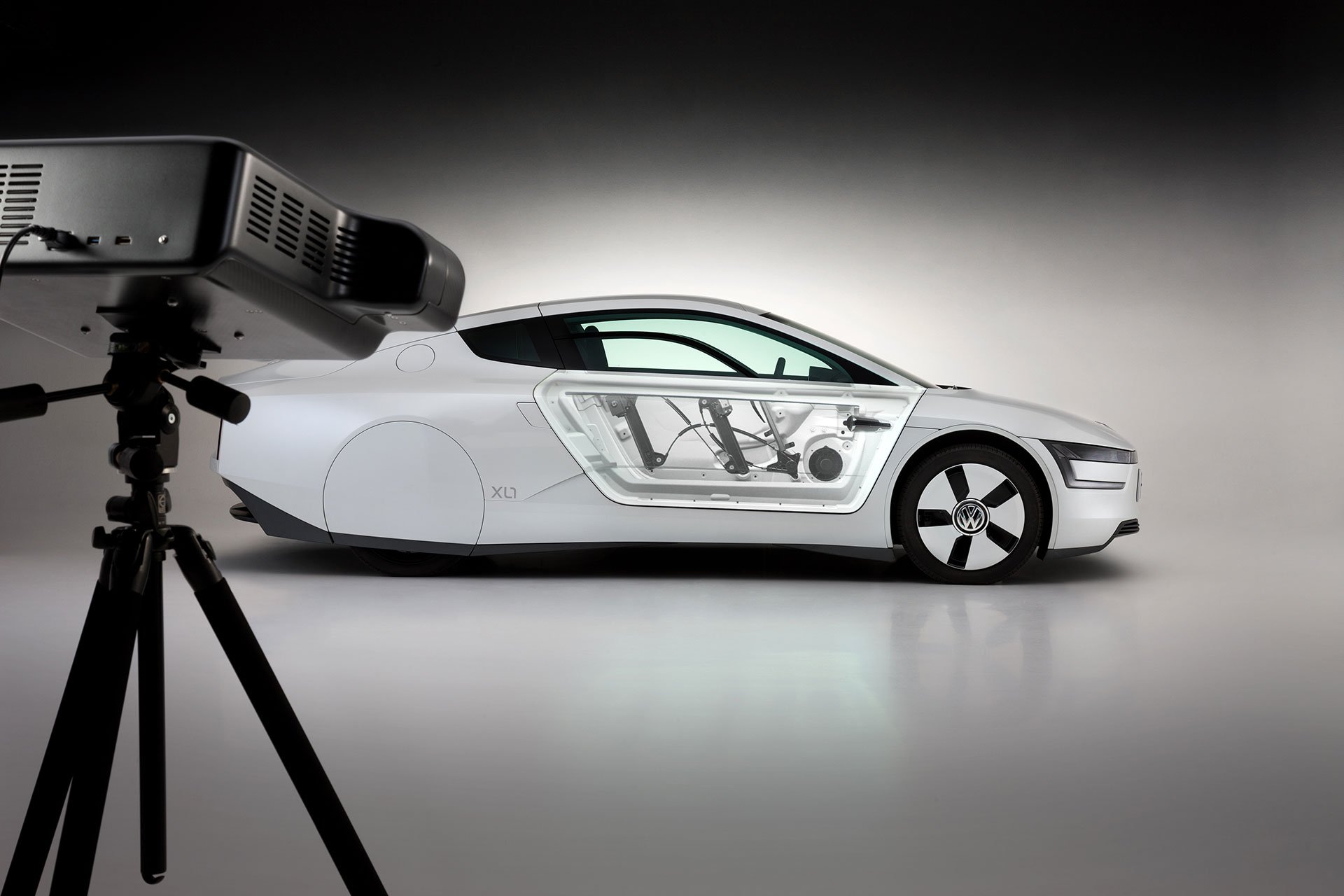 Measuring machines that measure to within a few micrometers or capture entire components within seconds are already standard today.
The challenge here:
Correct interpretation of the enormous amount of high-precision data
Quickly understandable presentation of the actual problem for all parties involved
WERKLICHT Video is the solution.
Projects measurement results onto components
In the form of false color or deviation maps or individual point measurement values
Automatically adjusts the projection to the position of the component
Uses measurement data from conventional optical and tactile measuring devices
WERKLICHT Video is thus a tool for effectively communicating quality.
Data supply:
Minimal setup time
Automation through connection to PLC or control technology via network API
All CAD formats
Generic import from CSV or similar for integration with third-party systems
Ready for IOT

Collaboration:
Projection of heatmaps, measured values, design lines
X-ray view for displaying complex technical issues
Intuitive discussion directly on the component
Shorter decision cycles
Elimination of time-consuming manual labeling processes
Fewer physical mockups
Areas of applications
WERKLICHT video is mainly used in places, where quality is measured and talked about quality. WERKLICHT Video is a communication means of communication, which helps to avoid serious communication and interpretation between between departments and management levels.
An example of this is the use of WERKLICHT in the Meisterbock. Before the start of production in the automotive industry, components are components are matched to each other on the master trestle, that they fit together perfectly. When there tenths of a millimeter, and when areas such as gap such as gap dimensions and gap flushness are discussed, WERKLICHT Video comes into play: The recording of the surface is first with a 3D scanner. 
WERKLICHT Video then takes over the display of these numerous measurement results on the component. In detail, the following procedure has proven Meisterbock, the following procedure has proven successful: First, large-scale measurement protocols are projected, to identify the relevant problem areas on the the assembly. In the next step the identified problem areas are then are then illuminated in more detail by means of further, specific measurement data. In order to further support the error analysis, WERKLICHT Video can even can even project the CAD data of the components. All in all, this compact and direct representation of all available data on the assembly simplifies technical communication.
Benefits:
Simply read in the measurement report and project it immediately
Compatibility with any common metrology software
High resolution and precise projection
Flexible and mobile use
More information about WERKLICHT Video
Setup of the System:
WERKLICHT Video uses measuring results and protocols from all establish metrology software platforms. This measurement data is imported into the EXTEND3D software which comes with the purchase. So called targets are then placed on the component in order to calibrate it, either according to the component itself or the vehicle coordinate system. If ruled surfaces are used for RPS alignment these can likewise be incorporated and used as a reference.
If targets for a 3D scan have already been used these can also be used as a point of reference. WERKLICHT Video is typically to be set up in less than 10 minutes, meaning that your employees in quality assurance can start projecting measuring results.
Dynamic Referencing:
In case of WERKLICHT Video or the component is moved, the projection adopts automatically to the new position. This leads to an increased flexibility and mobility of the system.
Free Trial Version - "WERKLICHT Video STARTER-KIT"
The demo-kits for our WERKLICHT Video and our adequate software WERKLICHT 3D is now available.
This demo-kit will help you not only to experience how easy the implementation and the usage of our hard- and software products are.
Moreover, you have the chance to test our device and experience the benefit of precisely aligned 3D projections on your workpieces under your daily operating conditions and environments.
Easily integrate your application and CAD data in our software WERKLICHT 3D and enjoy more productivity.
There is no specific knowledge or expertise required. 
If you are interested in…
a smart and cost-effective visualization solution for e.g. correct positioning of cables
the increase of your product quality and customer satisfaction
the optimization of your workflows and the improvement of your staff deployment and the facilitations of their work
or simply said interested in a highly flexible and easy to use solution for all persons involved, no difference if you are the operator or the project engineer in work preparation our WERKLICHT Video and software WERKLICHT 3D is your appropriate working tool.
And the best: The complete demo-kit is free of cost for 14 days. This means you have enough time to test and check our device and solution in all relevant situations and applications. After 14 days you only need to return the complete demo unit. We will cover all shipping cost.
All what you need to do is to send us a short e-mail describing your primary purpose, or your special challenge and we will contact you shortly to sort out the details.
To get a better insight, we also ask you to answer the following questions:
What is your industry? E.g. automotive engineering, shipbuilding, aircraft construction, manufacturers of machinery and plants, supply industry etc.
What is your application and planned implementation? E.g. measuring data audits, assembly support, positioning of assembly parts, cable courses, completeness tests, interpretation of measurement data etc.
What is your type of use? E.g. Prototype construction/unique one construction, batch production, assembly line work etc.
Your workpiece? Please give a rough description of your workpiece as e.g. size, material, planar, curved, complex 3D structure, comparison/analysis of design options etc.
What are your environmental conditions? E.g. is it very dusty, dirty, loud? Is the light intensity on the workpiece very high? Is there direct sunlight? etc.
Your data type? E.g. CATIA, JT, IGES, STEP, DXF, OBJ etc.
If you have 1 – 2 images, we appreciate if you attach these.
How did you find out about us?
The more detailed your information is the better we can help and support you in your project.
What does the demo-kit include?
3D calibrated Canon projector with all necessary cables (power cable, HDMI cable etc.)

Notebook with our software WERKLICHT 3D, pre-configured for an easy start

Quick-Start-Guide incl. all contact details of your personal WERKLICHT Expert

and so much more.
Please note that we currently offer and ship the free demo-kit within the EU.
However, if you / your company is not in the EU but interested in our free demo-kit please send us an e-mail and we will take care of your request and check what we can do.